A Subtle Alternative to Braces
We are excited to offer Invisalign treatment to our patients, a clear and subtle alternative to braces. Invisalign clear aligners an innovative and aesthetic way to straighten your teeth without the metal wires and brackets of traditional braces.
Traditional braces may not right for everyone, especially our adult patients—that's why our team is proud to offer a viable alternative.
Schedule an appointment with us today to find out if Invisalign is a good option for you!
Why Invisalign?
Invisalign are custom-fitted removable trays and work much like traditional braces to correct the same problems like large gaps, overcrowded teeth, cross bites, overbites, and underbites.
The big difference is that Invisalign is much less noticeable than metal braces.
It all starts with a consultation with our dental professionals. We thoroughly examine your teeth to see if you're a good candidate for Invisalign. We then take impressions of your teeth to map the exact movement needed to straighten your teeth.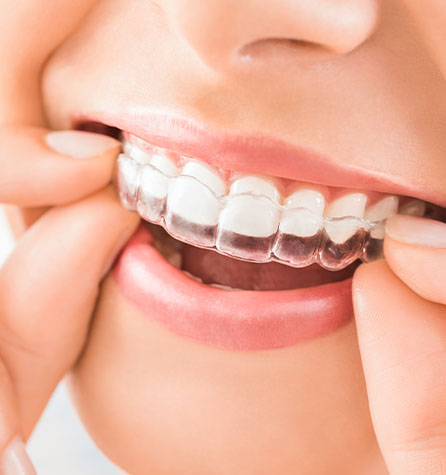 Invisalign treatment involves using a series of clear, removable aligners to shift your teeth into the final position gradually. Your Invisalign schedule involves replacing your clear aligners every 2 weeks and removing them when eating, drinking, brushing, or flossing.
The big difference is that Invisalign is much less noticeable than metal braces.
Our team will have you visit us every 6 weeks or so to monitor your progress and provide additional aligners.
Let's explore some other things you should know about your Invisalign aligners.
The Advantages of Invisalign
Invisalign can be a less invasive way to straighten teeth, especially for our adult patients. Some advantages of Invisalign include:
Being able to eat what you want
No broken wires or brackets
Usually, fewer visits to the dentist than traditional braces
Being less noticeable than braces
Being removable and easy to clean
Reduced treatment time
Invisalign Attachments
If you require a more complex, your dental professional may recommend trying different Invisalign attachments to help you achieve the results you're aiming for. These attachments are small, subtle, tooth-coloured anchors that allow for more complex tooth movements during your treatment.
Invisalign Maintenance
Maintenance is key! If you're a heavy smoker or coffee drinker, you may notice your aligners turn yellow over time. It's crucial to remove your aligners when eating and avoid drinking coffee or smoking with your aligners in.
The force from eating may damage your aligners, and eating in general with your aligners in your mouth would be an uncomfortable experience.
Types of Invisalign Treatment
Your dental health is important to us, and we provide multiple Invisalign treatments depending on the complexity of the required movements. This flexibility allows us to determine the number of aligners to use and the required quality to achieve your desired smile results!
Invisalign Full
Invisalign Full is the original treatment designed as an alternative to traditional metal braces. Invisalign Full is used for complex orthodontic treatment and can take 12 to 18 months on average.
Invisalign Lite
Invisalign Lite is a good option for less complex alignment issues. This form of Invisalign is an excellent solution for patients who require teeth adjustment before engaging in cosmetic dentistry like veneers and dental crowns.
Invisalign Teen
Invisalign Teen is for teenagers who are undergoing constantly shifting teeth, and Invisalign Teen accommodates the challenge of growing teeth. These aligners feature a blue dot indicator to help our team monitor how often your kids are wearing their aligners.
Invisalign i7
Invisalign i7 is the latest version of Invisalign aligners and features a shorter treatment duration than standard Invisalign. This type of treatment is excellent for patients requiring minor dental corrections.
Invisalign i7 can also help solve issues like a single crooked tooth or slight overcrowding cases. Invisalign i7 can also be used in cases of previous orthodontic treatment with minor relapse.
A Solution for Your Smile
Our team is all about helping you find solutions at Arch King West Dental. We provide a comprehensive experience when it comes to Invisalign, including a consultation and seeing you through the duration of your treatment.
Contact us to schedule an appointment and get started on your Invisalign journey today!
Come Visit Us
We have 2 locations across Toronto to best serve our patients across the city.
Arch King West Dental
1010 King Street W.

Toronto

,

ON

M6K 3N2
Hours of Operation
Monday

:

9:00 AM

–

6:00 PM

Tuesday

:

9:00 AM

–

6:00 PM

Wednesday

:

9:00 AM

–

6:00 PM

Thursday

:

9:00 AM

–

6:00 PM

Friday

:

9:00 AM

–

6:00 PM

Saturday

:

Closed

Sunday

:

Closed
Arch Liberty Village Dental
51 East Liberty Street, Unit 2

Toronto

,

ON

M6K 3P8
Hours of Operation
Monday

:

9:00 AM

–

6:00 PM

Tuesday

:

9:00 AM

–

6:00 PM

Wednesday

:

9:00 AM

–

6:00 PM

Thursday

:

9:00 AM

–

6:00 PM

Friday

:

9:00 AM

–

6:00 PM

Saturday

:

Closed

Sunday

:

Closed