Periodontal disease is very common—approximately 70% of Canadians will experience this condition at some point. It may not seem concerning at first, but periodontal disease can significantly affect oral health. In some cases, this condition can lead to tooth loss.
What does the timeline of periodontal disease look like?
Tooth Loss Doesn't Happen Fast, but Don't Delay Treatment
It can take a while for the first stage of periodontal disease to progress and affect your gums. However, there isn't a predetermined amount of time for periodontal disease to lead to tooth loss. Each person is different, and gum recession may happen sooner for some than others.
What Is Periodontal Disease?
Periodontal disease, also known as periodontitis or gum disease, is an infection of your gums caused by bacteria. This condition progresses in several stages as it damages your gums, leading to eventual tooth loss. You may not notice gum disease right away, but its symptoms become more noticeable as it progresses.
Periodontal disease symptoms include:
What Causes Periodontal Disease?
Periodontal disease develops due to poor oral hygiene. It can feel tempting to skip brushing or flossing your teeth when you're tired, but these are essential steps for protecting your teeth against harmful bacteria.
Plaque develops when bacteria mix with leftover sugars from food and beverages, forming a clear, sticky coating. If left unaddressed, plaque can harden on the teeth, becoming difficult to remove alone and slowly causing cavities.
Your body responds to this bacteria, causing inflammation in your gums. As periodontal disease worsens, it can lead to further damage to your teeth and eventual tooth loss.
What Are the Stages of Periodontal Disease?
There are 3 main stages of periodontal disease: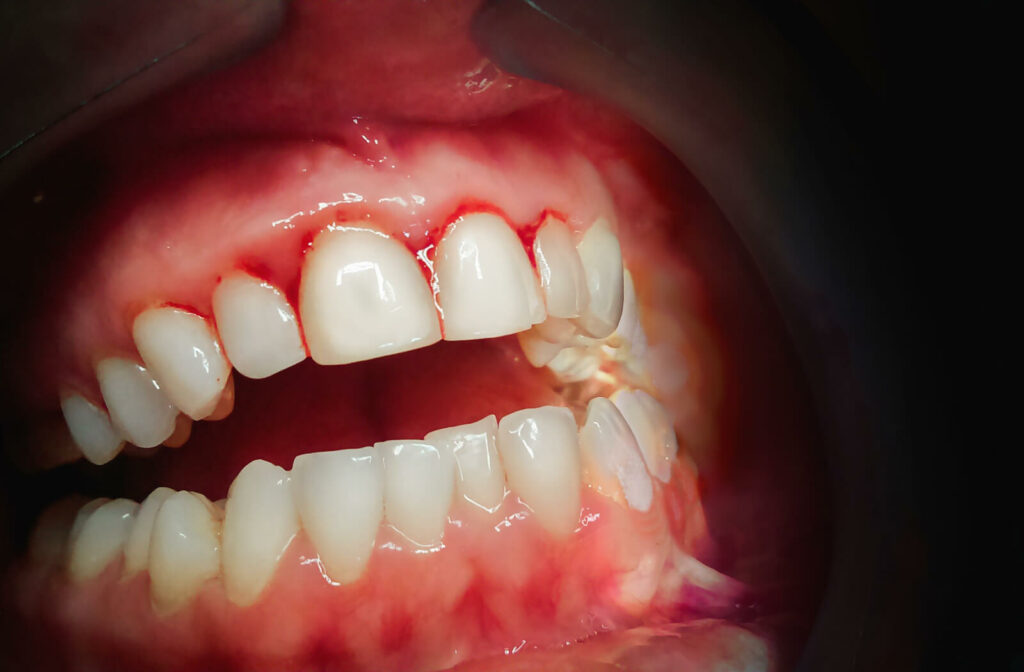 How Can You Treat Periodontal Disease?
While periodontal disease can be dangerous for oral health, it's treatable. The best treatment for this disease depends on its severity. Milder cases of periodontitis may only require antibiotics, while others may need surgery.
Your dentist has several ways to treat periodontal disease, including:
Your dentist will recommend the best treatment for your needs after assessing your teeth and gums during an exam.
How to Prevent Periodontal Disease from Developing
Your dentist is here to help treat periodontal disease and protect your oral health, but you don't need to let this condition develop that far. Good oral hygiene can help prevent plaque from damaging your teeth and gums.
Follow these tips to keep your teeth, gums, and mouth healthy:
Protect Your Smile
Periodontal disease can eventually lead to tooth loss and other complications, but you don't need to let this condition progress that far. Good oral hygiene and regular visits to your dentist can help prevent periodontitis and other dental problems. If you develop gum disease, your dentist has several treatments available to help improve this condition.
Contact Arch Dental Centres if you experience symptoms of periodontal disease or have other concerns about your smile.