Visiting your dentist regularly and maintaining a consistent check-up schedule is essential for your oral health and overall health. Practicing good oral health habits is crucial from a young age. Building habits early can help keep that consistency well into adulthood.
Let's look at when your children should go in for their first dental visit and some of the long-term benefits.
Visiting Your Dentist Early
You may know the importance of dental health, but knowing when it's the right time to take your children in for a check-up is important. Building up their oral hygiene habits and getting them comfortable with the dentist can set them up for success in the future.
You should take your children for their dental assessment within 6 months of the eruption of their first tooth or by the time they turn one year of age. An early visit is to get your children comfortable with the dentist before there are even any problems with their teeth.
Following your child's first visit, you should schedule regular check-ups at least once every 6 months to catch any possible issues early.
A dental exam every 6 months will allow your dental professional to quickly catch any early issues with your children's dental health. Checking for early childhood tooth decay is important—your dental professional will be able to spot things and advise you accordingly on the next steps.
Children are susceptible to dental cavities and tooth decay, so you can never be too cautious with booking dental exams.
Preparing Your Children for Their First Visit
Going for an initial dental check-up is a new experience for your child—it can be a confusing and overwhelming experience. The best thing you can do is talk to them about the process and make them comfortable with what will happen.
Communicating with your dental professional consistently is a great way to know what to expect and can help your children relax.
Taking the fear out of a visit to the dentist is an integral part of their journey and allowing your children to develop comfort with the dentist is essential.
Benefits of an Early Dental Visit
Taking your children for their first visit to the dentist can reveal crucial information. Some reasons to opt for an early visit include:
Finding out if the cleaning you're doing at home is working
Finding any issues right away and fixing them
Your children can learn that going to the dentist can prevent problems
Your dental professional will also have the opportunity to take any X-rays to determine if your children's teeth are all coming in as they should be.
During and following your children's first visit, your dentist will be able to check and keep track of any crooked or crowded teeth that may cause problems in the future.
Along with getting your children started on the path of good oral hygiene, an early visit can put you at ease. You'll have the opportunity to ask any questions and confirm if your cleaning methods at home are effective and beneficial.
Catching any early dental issues will save your child some pain and boost their confidence as they age. Developing an early rapport with the dentist will prepare your child for the world of baby teeth, and in turn, you'll also know what to expect.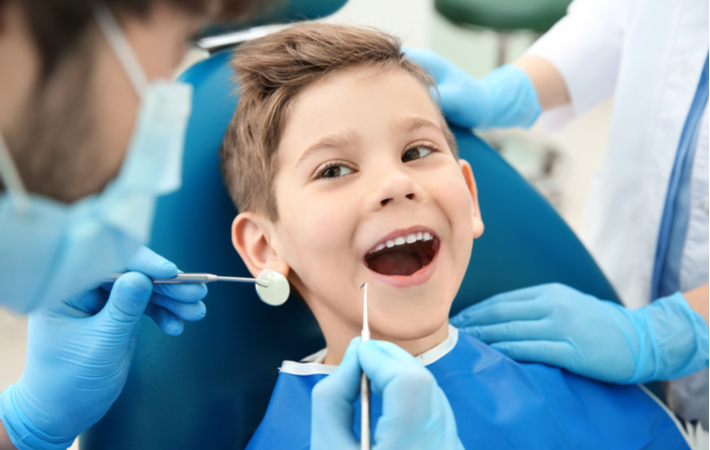 Building Good Habits
Building good dental habits from a young age can be a great learning experience for your children. Staying on top of your dental health is crucial, and passing these values on to your children can help them avoid oral hygiene issues down the line.
Book an appointment with your dental professional today to learn more about the importance of dental hygiene for all ages.